Welcome to my web site where you will find my art works including bronze sculptures and carvings and drawings (coming soon). My YouTube videos are all available on this site as well as information about the Nigel Konstam Museum, showcasing my sculpture and art history discoveries. Also you will find links to my blog, my other website - SaveRembrandt.org.uk as well as my other discoveries about art history, including Greek bronze casting techniques.
The Artists' Community at Verrocchio Art Centre in Tuscany
Join the community and pursue your own creative projects sharing studio space at the beautiful Verrocchio Art Centre or 
study Art History with Nigel,
or enrol for the Konstam Dimploma studying the methods of Uccello, Holbein Rembrandt and Poussin.  Find out More at www.verrocchio.co.uk
Nigel Konstam demonstrates that some of the Elgin Marbles are most likely to be Roman replacements (from the time of Hadrian) of the Greek originals. The evidence comprises archaeological and aesthetic factors which Nigel demonstrates in a "Tour of the Elgin Marbles".
Velásquez - His Methods
Nigel Konstam in a BBC interview in 1976 shortly after he made his first Rembrandt discoveries.
Nigel has published a number of videos on art and art history.
New for 2020 - A Sculptor's Perspective - The Elgin Marbles Explained
In this new documentary, Nigel Konstam provides an alternative view of the sculpting techniques of the ancient Greeks, with a focus on the controversial view that they employed plaster and wax to make moulds taken from living people - known as "life casting".
This practice is highly frowned upon in art and art history circles, but Konstam aims to prove that this is a modern taboo, and certainly not above the most legendary of ancient artists.  More videos by NK.
If you have any questions about this video, there is a dedicated Facebook group, or you can contact Konstam directly.
Also available in Italian - Disponibile anche in italiano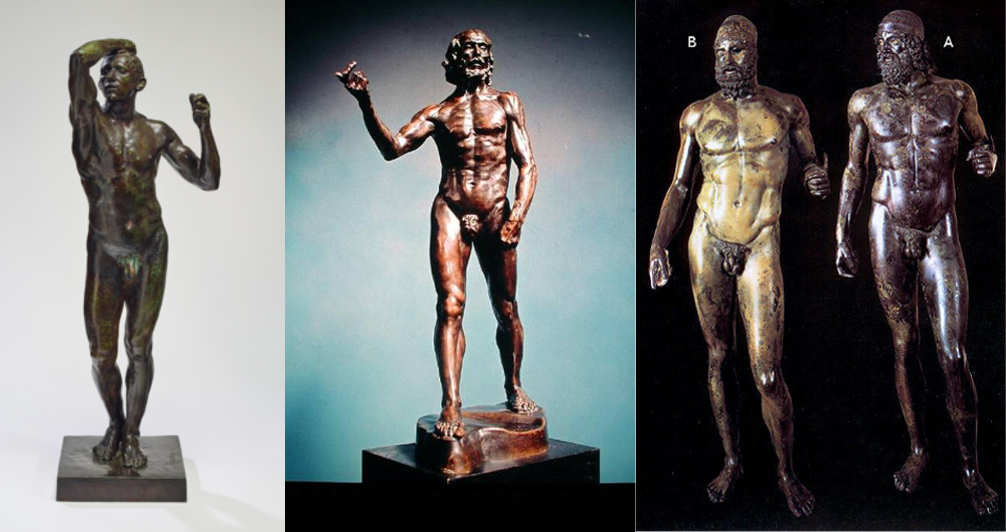 Compare the work of the ancient Greeks (Riace bronzes, right) to the work of Rodin (Age of Bronze and John the Baptist, left and centre) from over 2000 later
See also - Museum Konstam
Konstam has written several essays and ebooks hosted on this site on a veriety of subjects, including art history (An Alternative History of Art), and Rembrandt scolarship (A New Key to Rembrandt. If you want a deeper look into this controversial subject, see also Konstam's other website: Save Rembrandt, which provides a more detailed look at the topic as well as his thought on the Dutch master's technique and the current state of research.)